CoutureBook-side1
Common Questions:
1. Can I add pages? You can either have a 100 , 200 or 300 side Couture album. If you want to add an extra 100 pages please select up to 150 additional images to include in the design.
2. Can I do a custom Imprint ? Absolutely . We can create a custom die out of almost anything. There is a fee of $250 for this service
3. Can I add parent book duplicates? Yes we can. You can add a 6x9 small album for $500 or a larger 8x10 for $625. Theses are great gifts ! *please note that if your main album is over 100 sides additional charges may apply.
4. Will I have to come pick up the album ? No, we will ship directly to you !
5. Will there be retouching? Yes every image included in your album will be carefully retouched to take away any fine lines, fly away hairs and general imperfections. We do not retouch the images until the design is completed. If you have a request that you think we may not notice or want something specific please note it in the comments and we will do it during that next round of changes. While most retouching is included we do charge an additional fee of $35 for any out of the ordinary requests. We will notify you of this fee before moving forward.
6. Can I change an image from BW to color? We can as long as you are with a 6 month window from the date we sent you the proofs. If it is past 6 months we no longer retain the RAW files and can not accommodate this request.
7. Will I be able to have the final retouched images? Once the images are Retouched and the album has been ordered we will have the retouched images available via online gallery and available for print purchases at proof pricing. ( What great motivation to finish the album !)

Ordering Prints:
You can order prints via your online gallery OR via email. If you would like to use an existing studio credit please email your order to us at info@offbeetproductions.com.
- [ ] All of our prints are printed on a fine art fuji deep matte paper. The minimum print order is $50 and the shipping fee is $12.
Loose prints typically take 2 weeks to arrive.
Paper Options

1. Recycled ( The most popular)
2. White Felt with deckled edges ( this is a bright white paper and the edges are all hand ripped. This paper is slightly thinner than the recycled paper stock. *please note the deckled edges are a $200 upgrade)
3. Photo Matte : (This is a thicker paper with a slightly shiny photo finish)
Cover Options
Our Most popular Cover options are available Dark Leather, Medium Leather, Snow Suede, Black Leather, Grey Silk , and our Cream Linen
You can then add imprinting OR an image window. There are 2 different fonts to choose from and you can view the options at the bottom of the swatch page. We typically ask the album binder to size it to what looks best. Typically we center the names an or wedding date on the center of the book. It can, however, be imprinted wherever you would like.
Screen Shot 2017-10-17 at 1.53.01 PM
Screen Shot 2017-10-17 at 1.54.52 PM
Screen Shot 2017-10-17 at 1.54.18 PM
Screen Shot 2017-10-17 at 1.54.59 PM
Screen Shot 2017-10-17 at 1.55.20 PM
Screen Shot 2017-10-17 at 1.55.28 PM
Screen Shot 2017-10-17 at 1.55.43 PM
Imprint Options
Screen Shot 2017-10-25 at 12.32.07 PM
Screen Shot 2017-10-25 at 12.32.24 PM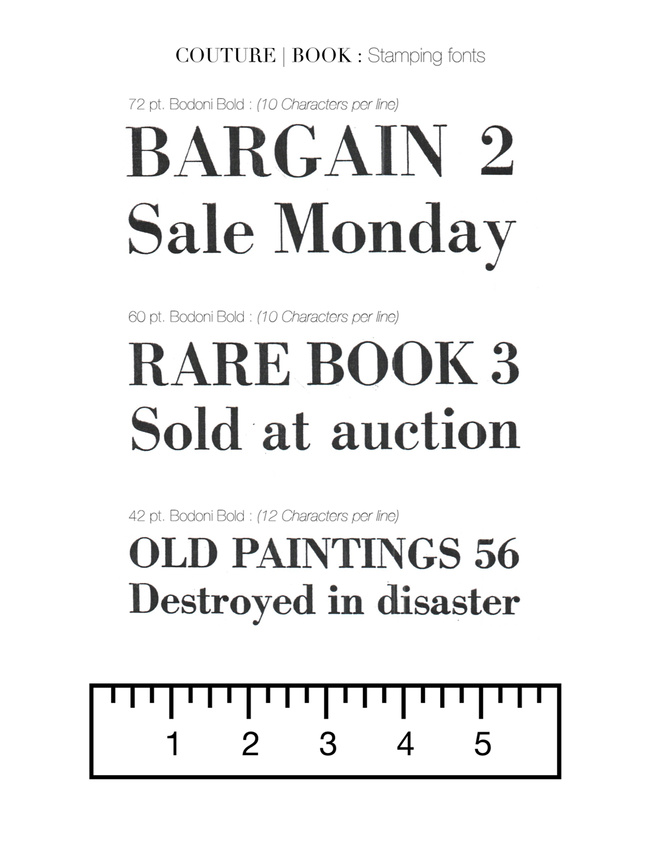 Screen Shot 2017-10-25 at 12.32.15 PM
Cream Linen Cover *Most popular with a blind imprint
Screen Shot 2017-10-17 at 1.56.02 PM
Paper Options:
Felt Paper with a deckled Edge :
Screen Shot 2017-10-17 at 1.52.49 PM
CoutureBook-B